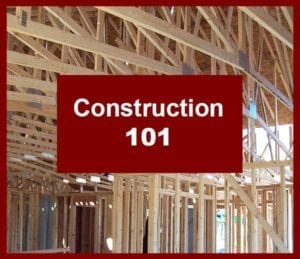 ACC: (Architectural Control Committee) Most subdivisions have an ACC who is responsible for approving or rejecting a plan and/or exterior colors in relation to the subdivisions requirements of visual appeal
Backfill: Refilling an excavated hole with the material dug out of it
Change Order: Any item that changes, adds or deletes items from your original Building Construction Agreements. Typically requires a processing fee
Culvert: a metal or concrete pipe that allows water to flow underneath your driveway
Decking:  Referring to the floor sheathing that is put in place during the framing phase prior to the walls being framed
Double Floor Joists: A reinforced floor joist created by adding two single joists together with nails or screws to add extra support for that joist to hold additional structure
Flatwork: Refers to any flat system of concrete such as basement and garage floors; porches and stoops; driveways and walkways; patios, and concrete slabs/foundation
Footings: It is a below grade concrete support that holds up the entire home
Grading Plan: A plan showing contours and grade elevations of a site to prevent property damage. Flooding, standing water, and erosion of areas.
Heat Calcs.: Or Heat Load Calculations is the amount of heat that is entered into the home or structure by solar radiation through the roof, walls, windows and doors. It is also an energy calculation to determine a home's overall efficiency.
I-Beam: A structural beam of rolled steel in the shape of a capital I.
Joist: lumber or steel that is supporting part of the structure of a building, typically arranged in a parallel series.
Knockdown Drywall: Knockdown is a texture finishing style
R-Value: The capacity of an insulating material to resist heat flow. The higher the R-value, the greater the insulation power
Rough Mechanicals: The basic outline and installation of the mechanicals (HVAC, plumbing, and electrical)
Sewer Lateral: An underground pipe that connects the house to a main sewer line
Sheet Rock: Another term for drywall, Sheetrock is a trademark name for a drywall manufacturer
Site Improvements: These include water and sewer connection, erosion control, stone driveway and walkway, the amount of fill, grading, other utility installation, drainage, etc.
Soffit & Fascia: These boards interlock near the roof line to allow for ventilation to the roof while keeping water, pests and other debris from entering the attic space. Can be made from either wood or aluminum.
Stud: A vertical framing member in a building's wall typically a 2" x 4" or 2" x 6".
Truss: A framework that is supporting a roof or other structure, manufactured off site.
Water Table: The level below which the ground is saturated with water