Exterior Standard Features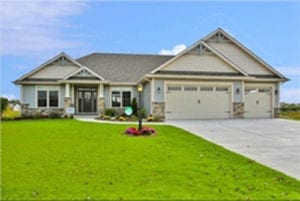 Exterior: List of standard exterior features including but not limited to siding, doors, windows, roofing etc. As Newport Builders delivers homes to meet all of a buyer's reasons and needs in building, we offer an extensive list of upgrades and custom home features including all exterior elements. Our sales consultants can provide more information on any and all requested options including windows, siding, stone etc.
Foundation
Form-a-Drain tile system that helps prevent against cracking, leaking and blockage and allows for free flow of water yet prevents against water infiltrating the basement. This system is eco-friendly and VOC (Volatile organic compound) free.
Windows and Doors
Vinyl High-Performance casement or double hung windows with low-e
Energy rated insulated exterior doors
All window and doors jambs are air sealed and insulated with spray foam insulation
Weatherization System
Tyvek house wrap prevents air and water penetration
Flex wrap on all windows and door sills to prevent air infiltration and sill rot
Exterior Design
Limited Lifetime dimensional shingles
UV protected maintenance-free vinyl siding